Outfitting inspiration comes from everywhere, I love to look at things and ask myself "how can I be inspired by this?" The colors of these beautiful veggies inspired this look for me.
The purples and oranges which are complimentary work beautifully together, this outfit mixes textures and fabrics. I envison wearing this for a day about town, a stop to a local greenmarket, selecting fruits for a salad to take to a girlfriends get together brunch. I also swear by the Korkease sandals they are truly comfortable for wearing all day.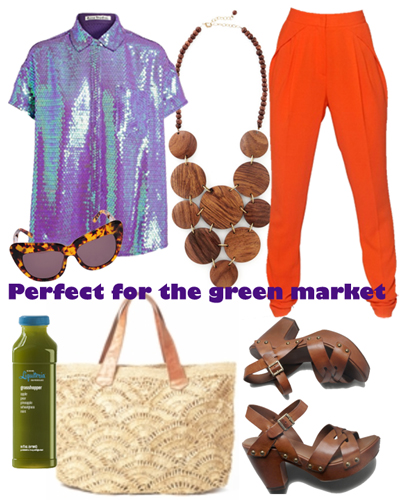 Mar y sol Tulum Crocheted Tote
Vionnet Viscose Crepe Trousers
Acne Rogue Sequin Embellished Shirt
Modcloth Disc-y Business Necklace
Korkease Deborah Avana Heels
House of Harlow 1960 Chelsea Sunnies
and of course a yummy drink, I love Liquiteria's All Greens.

Related Posts :